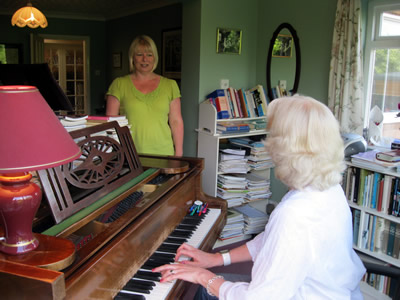 York Singing Teacher & Vocal Coach
Whether you are preparing for an exam., for music college entrance, auditioning for a local choir or for an opera company, or you simply want to sing more easily with greater reward and comfort, my aim is to help you find your true voice and enable you to communicate in words and music to your very best ability in an enjoyable and efficient way.
I have been teaching singers of all ages, from beginners to professionals, for well over thirty years in London and in York, and my experience and instinct allow me to evaluate voices and eliminate vocal problems. I specialise in classical singing technique and correct pronunciation and use of Italian, French, German and English text in opera, lieder and songs, and also in music theatre. I can accompany students at the piano in both lessons, examinations and performances in an extremely wide vocal repertoire.
A typical singing lesson includes
Tackling the issues of posture, breathing, support and 'placement', with the aim of extending vocal range and the power and control of your voice.
Studying suitable repertoire while learning to employ a safe and sound technique, and considering the interpretation of each song or aria.
Receiving vocal exercises tailored to your individual needs and which are highly effective at improving technique and avoiding or resolving vocal problems.
Being able to record the whole or part of your lesson, including – if  helpful – piano accompaniments with which to practise at home  between lessons.
In other words...
Whoever you are and whatever your goal, I can help you to make the very best of your singing in a wide range of repertoire from Bach to Bacharach!
We each have one voice to last us a lifetime that is as unique as are our fingerprints. My aim as a singer and teacher is to help you to find and use your individual voice in such a way that you are able to enjoy the glorious art of singing well into your seventies and eighties and beyond, and not only in the bath.