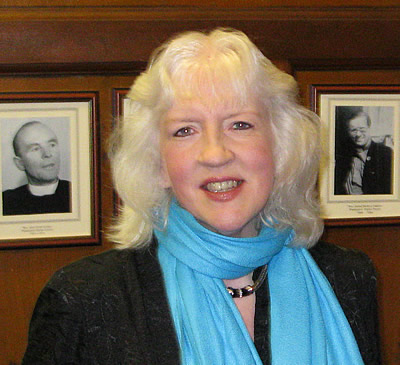 Born in Harrow, Middlesex, Jacqueline Edwards appeared as a teenage soprano on Thames Television's "Opportunity Knocks" (!) before going on to study singing and piano at The Royal College of Music in London, where she won numerous scholarships including an Exhibition Scholarship and a Boise Foundation Scholarship, and was a Finalist in both The John Ireland Competition and The Kathleen Ferrier Competition at the Wigmore Hall. She pursued her postgraduate studies in the R.C.M. Opera School, subsequently studying Lieder with Erik Werba at the Mozarteum in Salzburg.
Whilst at the College, Jacqueline was the mezzo-soprano soloist in Verdi's "Requiem" directed by Sir David Willcocks, since when she has performed extensively in oratorio and on the concert platform throughout the British Isles. Her teachers have included Josephine Veasey, Jean Allister, Meriel St. Clair, Gordon Stewart and Roger Vignoles.
(Jacqueline is a descendant of the celebrated contralto, Dame Clara Butt, but, although over six feet in stature, she remains a few inches shorter than her famous ancestor!)
Opera, and BBC Radio and Television
She has also appeared with Opera North, Glyndebourne Touring Opera, English Touring Opera, Wexford Festival Opera, Opéra du Nord in Lille, France and with the BBC Singers. She has sung at most of London's major concert venues, and on BBC radio and television.
Singer, Pianist and One Woman Shows
In her capacity as both singer and pianist, Jacqueline enjoys presenting her own light-hearted one-woman show for which she writes some of her own humorous material. She has devised a series of highly sophisticated yet light-hearted and palatable One-Woman Cabaret Programmes of words and music to suit different occasions and seasons, and these include "Airs on a Shoestring", "A Frog in my Throat", "A Partridge in a Pear Tree", "Pines and Needles" and "Women of Note". For many years, Jacqueline played piano cocktail music in the top restaurants and hotels all over London's West End, and is available to play for after-dinner entertainments, concerts, private functions, country hotel weddings and receptions, and anniversary celebrations.